I completed the 4 Seasons of Reconciliation and I can't find my certificate.
🎓 This article is for learners.
Not to fear, 4 Seasons of Reconciliation is here! We promise we'll help you retrieve your certificate.
Below please find a 2-part answer to your question:
* How to retrieve your certificate
&
* How to ensure you have 100% course completion to trigger the final certificate function)
This article covers professional development courses taken through our site. If you took a post-secondary course OR a course hosted on info.reconciliationeducation.ca, click here for certificate retrieval instructions.
Access your certificate from the Account Dashboard Menu in your learner profile (assuming it was generated by the portal)

You can access your certificate using your 4 Seasons account. From the dashboard, click on your name in the top right corner. You'll see a popup menu like the one in the top right corner of the screenshot below:
Click on "My Account". Once you see your profile pop up, click on "Certificates" on the left-hand side. You'll see a screen similar to the one below, listing all your certificates! To access or download them, click on "View" next to the certificate you want to view or download.
There you go! Now you have access to your certificate! It looks like this - with your name added. (If your name is misspelled or recently changed - you can manually change your name directly on your own unique learner dashboard and it will update it on the certificate. If you require proof of course completion in your classroom or workplace, simply download or take a screenshot and email it to your respective contact. You can also share this screenshot on your LinkedIn or social media profiles.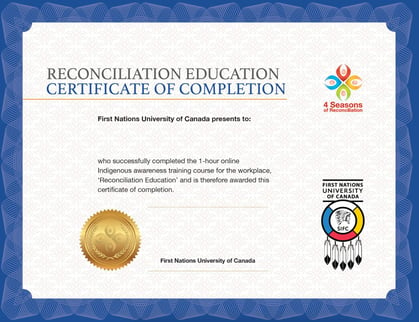 That didn't work? That's okay - let's make sure that your certificate was generated and see if that helps.
Checking Course Completion (to make sure your certificate generated)
First thing's first, sign in to your course.
Your dashboard should look something like the sample one below:
Above please see two screenshots displaying two different progress tracked. This is the information that you can access on your dashboard and in your situation, you are most likely only enrolled in one course only. These two examples show a completed course (left) and an incomplete course (right) for illustration purposes.
Notice the course on the left says 100% in the top circle, and "Replay Course" on the bottom right-hand corner? That shows a completed course! This means I should have a certificate and be able to access it.
The course on the right is incomplete, which means no certificate has been generated. It has less than 100% in the top circle and says "Resume Course" in the bottom right-hand corner. Solution: I need to complete this course before I can get my certificate!
If the course is not 100% complete, please revisit the items that are not marked complete in the menu and mark them as complete at the bottom of the lesson by clicking the 'Complete & Continue' option. This is how your progress is tracked by the course portal.
You can see which course items appear as incomplete by checking the table of contents on the left side of the course in the course player (once you've clicked "Resume Course" and are in the actual course!)
Once you've completed all the incomplete sections of the course, the progress bar on the top left in the course player will display the "Get Your Certificate" button, like in the example below. In the screenshot, see the large rectangle bar.
Click on that button to retrieve your certificate, and watch your email inbox for your PDF copy that will be emailed to you. (Check your junk folder or search the keywords 4 Seasons).
Voila!
Find and download your certificate from your email inbox
The email you receive with your PDF copy of your certificate will resemble the one below. This example shows a Gmail inbox.
Your email account may have sorted this email into your junk, spam, or quarantine folders because it has an attachment and also hyperlinks - make sure to check those folders as well.
None of the above was helpful? Still Looking for Your Certificate?
If your certificate doesn't arrive in your email inbox within 24 hours, or if you are unable to retrieve it, please let us know and we can generate one manually or help troubleshoot as necessary.
We recommend using our chat feature to contact us - you'll be connected with a live agent if one is online!
Please have your course name and URL (the link you use to access your course) ready, as well as your full name and the email address associated with your account. We need these details to help you, and we'll do our best to get you your certificate faster than you can say "94 Calls to Action"!